Couples Overnight Stays
Dinner, Bed & Breakfast
Peanuts Wellbeing Sanctuary is an animal sanctuary set in the beautiful rural area of Oallen NSW. You can go from the hustle and bustle of the big city to relaxing beautiful rural surroundings on 100 acres where you will get to meet the animals and hear their stories. Or simply spend a romantic weekend away where you can either have total privacy or spend time with the resident humans and animals.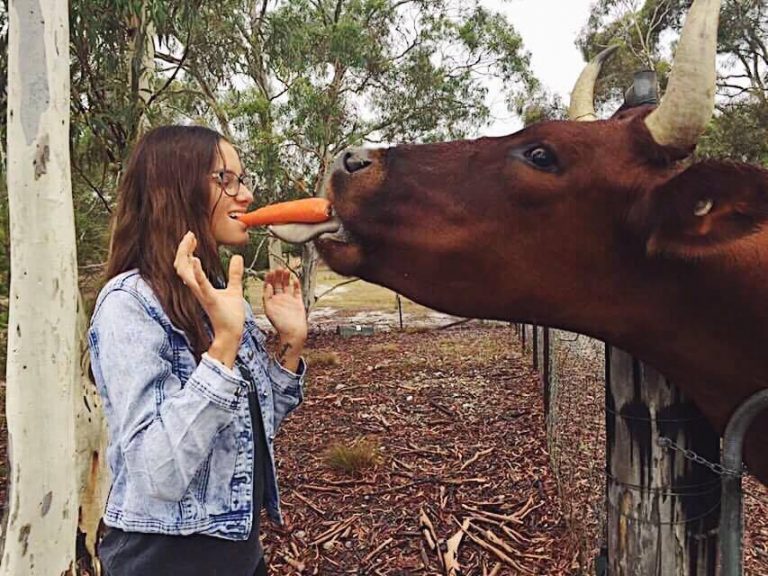 Support by Staying
Peanuts have an overnight stay DBB (Dinner, Bed and Breakfast) package for couples for a donation of $340 per couple or single $210.
All proceeds goes towards helping to break the cycle of abuse with kindness/empathy and thoughtfulness both enhances the quality of animal welfare and children.
Inclusions
One night stay in the loft with queen size bed (tea and coffee available).

Home cooked 2 course plant based dinner and cooked breakfast.

Meet and Greet all the animals and hear their stories (if you bring carrots you can have Nugget take one from your mouth, Fabian loves to sit for a treat, but not his dinner and the sheep and goats love weet-bix).

After the meet and greet you can relax.   

Your choice if you would like to walk around hand out with some of the animals. 
Walk the dogs in the Run Free enclosed paddock.
Night time you can watch a movie on the big screen in the woolshed or in your room with the wall mounted DVD player (bring your own DVDs or choose one from our selection).

Sit under the stars on a clear night and enjoy the country night.

Alcohol is BYO – 18yrs and over only (Peanuts will only tolerate sensible alcohol consumption).

Private toilet and shower in main house foyer area.
The Experience
If you're keen to have a real taste of life on an animal sanctuary, then this is for you. We hope that you don't mind that we cannot offer you 5 star inclusions and that you are excited for a welcoming and unique farm-life experience.
Sorry but due to a few changes we can not offer family overnights in the loft. We do, however, have an option for if you would like to camp out. This will need to be a special arrangement so please email or call us. 
E: [email protected]
P: (02) 4844 5935
M: 0407 508 060
Use of the lush kitchen
Which needs to be left cleaned including the floor.
Meet and Greet with all the animals and hear their stories
If you wish, you can help feed the animals.
Your choice to walk around the 100 acre property.
If the weather permits you can have a camp fire.
Dates are limited as we already have bookings, therefore if you are interested please contact us with a few different days in mind and we will do our best to accommodate dates that are not already booked. If you wish for your visit to be exclusive to your party only, please let us know at the time of first contact.
(Please keep in mind that we are not a hotel and the room is upstairs in the loft of the old wool shed and your toilet is in the main foyer of the house so if you need to go to the toilet during the night, this may not be for you).
Please ask any questions you may have before a booking is made. Donations made when the bookings are requested is appreciated. This is so we will not book any other events for the period. We are happy to refund if you can give us 5 days notice for any reason you or your group are not able to make it and need to cancel.
If you have any questions, please do not hesitate to contact us by email or phone.
IMPORTANT:
Due to Covid19 we are still restricting visits but we are able (with Covid19 restrictions in place) to accommodate for single or couples stay in the loft. We are working on a Camping area, family stay and an exclusive hideaway (more info on this as it develops). If you have a certificate, please contact us so that we can arrange something.